Space. The final frontier. A frontier that the appropriately named Frontier Developments want us all to explore and dominate in their space simulation game Elite: Dangerous. I unfortunately didn't have the opportunity to play the original Elite games which saw you zooming around the galaxy and visiting planets in glorious black and white pixels. For many who are older than I am, it was a gaming highlight. Now almost three decades on Elite: Dangerous has evolved in huge leaps from its predecessors thanks to modern technology to reclaim its title as a PC gaming epic once more.
Elite: Dangerous can be classed as an MMO as far as you play on a huge server with millions of other pilots. However the universe you find yourself in is a replica of our own, a couple of decades in the future where space travel is the norm and going to visit your old friends on another planet is as easy as making a trip to your local supermarket. What makes this universe special is 2 core facts. The first is that it is procedural meaning that the galaxy is continually being expanded with randomly generated star systems (complete with appropriate scientific names) so if you fancy yourself as a galactic explorer there are literally billions of systems to explore, each with planets and stars. This exploration can make you money if you spend the time doing orbital scans of unknown objects and selling the data back in colonized space. The graphics are top notch so you will stumble across planets with great details such as craters or cracks in their terrain, stars and suns which come complete with solar ejections which are mesmerizing to watch. The lighting is spectacular when viewing your ship with the included debug camera. The areas in shadow and in light change depending on ships orientation to a light source as well as your cockpit brightening and dimming all adding to the immersive element of the game. On the subject of suns and stars, don't get too close as there is a heat damage mechanic which will leave your ship a charred wreck, something that is always possible when scooping for fuel in the coronas of valid suns.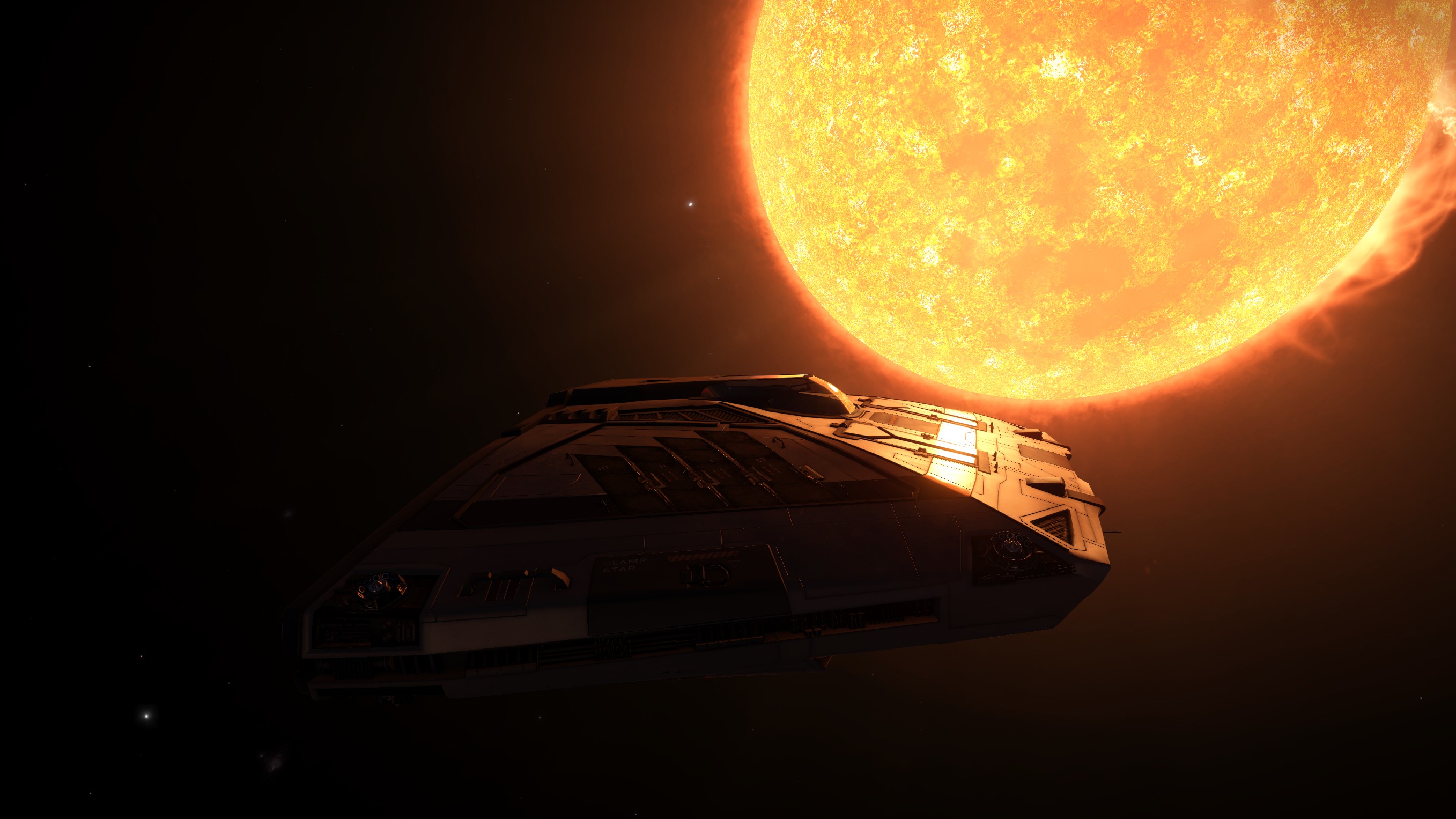 However you don't have to be a futuristic Marco Polo. Elite contains a dynamic economy which spans all of civilized space, with star bases operating on a system of supply and demand. For example, an Agricultural system will produce a large supply of commodities like food and beverages, but will demand farming equipment from a tech system. Operating as a merchant responding to this supply and demand may make you start thinking that you're playing "Space Truckin' Simulator", though it's one of the easiest and quickest ways to make a the money to buy an even bigger space lorry or sleek starfighter with shiny lasers especially if you choose to transport rare commodities over great distances. I definitely found that the trading helped me progress both in terms of the game and my list of podcasts and movies. This path can have its risks including pirates who want to share in your wealth, or even local authorities if you choose to become the next Han Solo and smuggle illegal cargo.
The universe just got a whole lot bigger. Every single one of those dots is a visitable system. And that's only a sample of the galaxy!
Combat in Elite requires some learning, each ship handles differently and each weapon has its advantages and disadvantages so kitting out your war machine requires careful management. When actually dog-fighting, I started off using my Logitech F710 game-pad but found that I just wasn't able to effectively control my ship resulting in much hand cramp and frustration as my poor Sidewinder Endeavour got torn apart time and again. I eventually bought a Thrustmaster T-Flight HOTAS system and it made a huge difference in terms of being able to actually point my ship at the enemy and make him cry for his space mummy as hot lasers melted his ship. Therefore controls in this game can be similar in philosophy to Flight Simulator. Yes you can fly a 747 with a keyboard and mouse, but it is so much easier and more fun with a proper flight stick and throttle.
As I mentioned before, this game is predominately multiplayer with you flying amongst players from across the world and AI spacecraft on a giant server (though there are options to play in a private group or on your own, all your stats are shared). This provides a very good environment for players to work with each other to complete community goals set out by the development team. These events drive the in game story forward and with their newest update "Powerplay" allow players to support the 3 major factions (Federation, Empire and Alliance) or numerous minor factions to gain control of areas of the galaxy. With the enhancements of the "Wings" system, you and three friends can form a squadron and directly influence the state of the galaxy by helping faction leaders gain control of systems, and fighting their enemies for cash and other in game bonuses.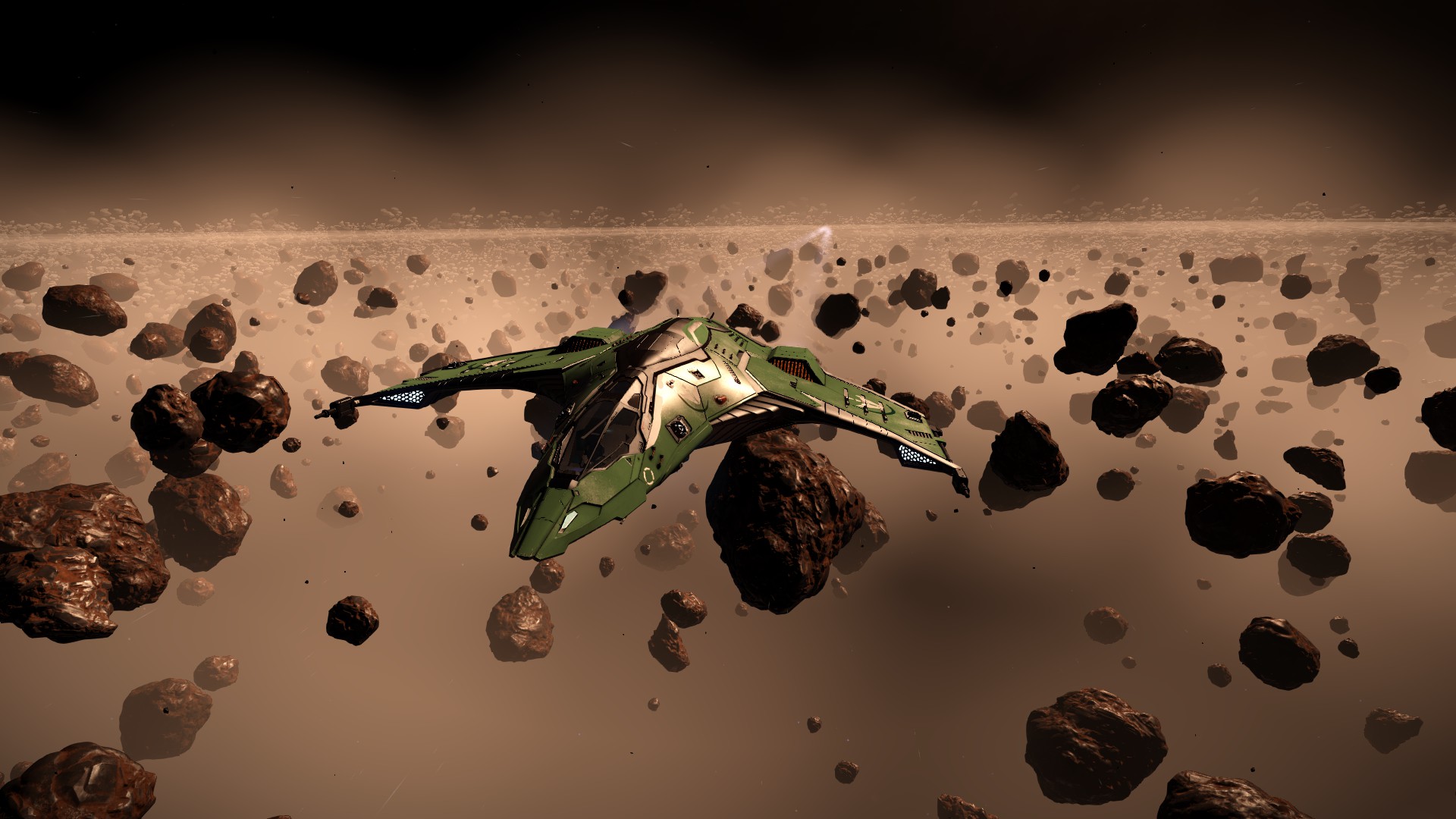 Elite: Dangerous and Frontier Developments have certainly come a long way from being a small Kickstarter project to become a fully-fledged game that is helping the revival of the space simulator genre. It is a completely open sandbox with the emphasis of letting the player decide how they want to play the game, whether it be exploring the unknown regions of space, or hunting down that one person who scratched your ship's paint job in the docking bay. With a ten year post-release plan, Frontier promises to continue to expand the number and variety of ships you can fly, all the while introducing new features such ship interiors and the ability to walk around and explore space stations. Maybe someday Commander Rogueleeder will be able to land his space freighter on that pretty earth-like planet he's dreamed of and explore its surface to uncover secrets of the galaxy. If done right, Elite Dangerous could be that one space game everybody's dreamed of, only time will tell. Now if you'll excuse me, my Wookiee co-pilot is complaining about the hyper-drive range again.
Rating: 8/10
Purchasable: Steam, Elite: Dangerous Store
Price: £39.99/$69.99
System Requirements:
Minimum:
OS: Windows 7, Windows 8, Mac OSX Yosemite
Processor: Quad Core CPU (4 x 2Ghz)
Memory: 4 GB RAM
Graphics: Nvidia GTX 260 / ATI 4870HD
DirectX: Version 11
Network: Broadband Internet connection
Hard Drive: 7 GB available space
Recommended:
OS: Windows 7, Windows 8, Mac OSX Yosemite
Processor: Intel Core i7-3770K Quad Core CPU or better / AMD FX 4350 Quad Core CPU or better
Memory: 8 GB RAM
Graphics: Nvidia GTX 770 / AMD Radeon R9 280X
DirectX: Version 11
Network: Broadband Internet connection
Hard Drive:  7 GB available space